---
・2009/09/25

MSI U100 Plus ネットブックPC
(Atom N280搭載)

Tags: [ノートパソコン], [Windows PC]

---
---

●MSI U100 Plusの主な仕様
MSI U100 Plusの主な仕様

MSI U100 Plus Driver





搭載CPU インテルR Atom プロセッサ N280(1.66GHz)
液晶パネル ノングレア10インチ 1,024×600 WSVGA
搭載メモリ DDR2-667 1GB 、SO-DIMMスロット(空き)×1基装備、最大2GB
搭載HDD 2.5インチ SATA 160GB
チップセット インテルR 945GSE+ICH7M
グラフィックス機能 インテルR GMA950

オーディオ機能
・HDオーディオ準拠/左右のパームレスト下部にステレオスピーカ搭載
・マイク機能(ノイズ抑制タイプ)/本体液晶ベゼル部分に内蔵

ウェブカメラ 130万画素/液晶ベゼル上部に搭載
カードリーダー SDHC/SD/MMC/メモリースティック/メモリースティックPRO/xDピクチャーカード対応

通信機能
・IEEE802.11b/g/n Draft2.0無線LAN
・有線10/100Base-TX LAN
・Bluetooth2.0+EDR

I/Oポート
・VGA×1(D-Sub15ピン)、USB2.0ポート×3
・マイク入力×1、ヘッドホン出力×1
・RJ45イーサネットコネクタ×1

ACアダプタ 入力 AC100~240V 50~60Hz 1.7A、出力 DC20V 2.0A

バッテリ リチウムイオン3セルタイプ

消費電力 不明

バッテリ駆動時間
・(JEITA測定) 約2.5時間

外形寸法
・幅260×奥行き180×高さ19-31.5(mm)(折り畳み時・突起部含まず)
・本体質量約1.0kg(3セルバッテリ装着時質量 約1.16kg)

※ ネジ穴に封印シール有り、剥がすと保証無効に。

●MSI U100 Plus Device Driver、デバイスドライバ、BIOS
MSI Wind U100 Plus
BIOS 1.0G 2010-01-04 (Windows7対応)

●MSI U100の Bluetoothを Microsoft Bluetooth Stackで使う方法。


※ ただし、Windows XPの Bluetoothスタックは A2DPプロファイルは無いらしい。
COMPRESS.EXE -zq7 bth.inf bth.in_

C:\WINDOWS\inf\bth.infの 133行目に下記を追加
MSI U100 Plus Bluetooth=                         BthUsb, USB\Vid_0db0&Pid_a97a

~~略~~

[Toshiba.NT.5.1]
TOSHIBA Integrated Bluetooth=                    BthUsb, USB\Vid_0930&Pid_0502&Rev_1350
TOSHIBA Integrated Bluetooth 2=                  BthUsb, USB\Vid_0930&Pid_0505
TOSHIBA Integrated Bluetooth 3=                  BthUsb, USB\VID_0930&PID_0506
TOSHIBA Bluetooth Adapter=                       BthUsb, USB\Vid_0930&Pid_0507
MSI U100 Plus Bluetooth=                         BthUsb, USB\Vid_0db0&Pid_a97a

[Zeevo.NT.5.1]
Zeevo Bluetooth Solution=                        BthUsb, USB\Vid_0b7a&Pid_07d0&Rev_0126

~~略~~

●Ralink(MS-6890、RT2700E)
無線LAN(Ralinkは世界中で評判悪いみたい)
PCI/mPCI/CB (RT2860 /RT2760 /RT2890 /RT2790 /RT306X /RT309X /RT35X2)

リンク(MS-6890、RT2700E)

http://www.ralinktech.com.tw/support.php?s=1


PCI/mPCI/CB (RT2860 /RT2760 /RT2890 /RT2790 /RT306X /RT309X /RT35X2/RT539X)
05/23/2011
2K/XP:3.2.1.0
Vista:3.2.1.0
Win7:3.2.1.0
IS_AP_STA_RT2860_D-3.2.1.0_VA-3.2.1.0_W7-3.2.1.0_RU-4.1.1.0_AU-4.1.0.0_051911_1.5.12.0WP_Free.exe

PCI/mPCI/CB (RT2860 /RT2760 /RT2890 /RT2790 /RT306X /RT309X /RT35X2)
2011/01/18 Ver. 3.1.14.0
01/18/2011
2K/XP:3.1.14.0
Vista:3.1.14.0
Win7:3.1.14.0
IS_AP_STA_RT2860_D-3.1.14.0_VA-3.1.14.0_W7-3.1.14.0_RU-4.0.4.0_AU-4.0.4.0_011811_1.5.11.0WP_Free.exe

RaCoInst.dat
RaCoInst.dll
rt2860.cat
rt2860.inf
rt2860.sys

2010/03/03 2K/XP:3.1.0.0
2K/XP:3.1.0.0
Vista:3.1.0.0
Win7:3.1.0.0
IS_AP_STA_RT2860_D-3.1.0.0_VA-3.1.0.0_W7-3.1.0.0_RU-3.1.5.0_AU-3.0.6.0_030310_1.5.7.0WP_Free.exe

2009/09/17 Ver. 1.4.7.0
IS_AP_STA_RT2860_D-1.4.7.0_VA-2.3.7.0_W7-3.0.7.0_RU-3.1.3.0_AU-3.0.4.0_091709_1.5.5.0WP_Fre.exe
※ キチガイみたいに長いファイルネームですな。

MSIホームページのドライバ
NB WLAN Drivers for XP (Ralink-6890/6891) 2009-10-13 Ver. 1.4.7.0
msi Wireless Lan_6890/6891 2010-03-02 1.4.17.0
wl_68906891_1.4.17.0_xp32.zip

※ 無線LANが Ralinkの U100は大ハズレ
※ 無線LANが Realtekの U100は Ralinkよりはマシ
※ 無線LANが Atherosの U100は大当り

●Sentelic製のタッチパッド
U100 Plusは Sentelic製のタッチパッドです。
ホイールスクロール動作は右上/右下を指で叩く方式です。
(右端を縦になぞる方式は Synaptics社の特許らしい。)
※ Sentelicはドライバが最悪で馬鹿ですが、ハードウェアの作りは Synapticsより良い感じ?

Sentelic's Touchpad Treiber(Sentelic Touch Pad driver)
2008-08-08 Version 8.3.2.7
(Tappingをオフにできない)
stlfsp_8327.zip
STLFSP_8327_ALL
,MSI Deutsche(Sentelic Touch Pad driver)

Version 8.3.3.2
(Tappingをオフにできる)
FSP_8332_ALL_WHQL.rarでググル

2008/11/19 Ver. 8.3.4.9
fspad.inf
OCZ Technology Neutrino Netbook

2009/02/13 Ver. 8.3.6.8
fspad.inf
DriverDisplayVersion = "8.3.6.8"
AVC.DriverReleaseDate = "02/13/2009"
(怪しいサイトにあるバージョン)

2009/05/07 Ver. 8.4.1.5
2009/08/04 Ver. 8.4.5.2
AVC Finger-sensing PAD Driver
MEDION SYNAPTICS TOUCHPAD DRIVER 8.4.1.5
MEDION SYNAPTICS TOUCHPAD DRIVER 8.4.5.2
(Tappingをオフにできる。見つけた中で一番最新)
MEDION UK P

AVC TPA1 FINGER-SENSING PAD [*STL3842]
AVC TPA1 FINGER-SENSING PAD [*STL3886]
FINGER-SENSING PAD [*STL3888]
FINGER-SENSING PAD [*STLC000]
FINGER-SENSING PAD [*STLC001]
FINGER-SENSING PAD [*STLC002]
MICROSOFT PS/2 PORT MOUSE (INTELLIPOINT) [*PNP0F13]

●禁断の裏技(改造ドライバ使用方法)
ALPSのドライバを入れてから Synapticsの改造済みドライバを入れる
(消滅)

ALPSのドライバを入れてから Synapticsの改造済みドライバを入れる
右端を縦になぞる方式でスクロール操作可能らしい。
Sentilic Touchpad Slide Scroll

fe_xpmouse.zip
Touchpad_Synaptics_v10.2.4_Vistax32x64_XPx32x64_modded_build2.zip
After installing the Alps the touchpad may cease to operate. You will have to use the keyboard or an external mosue to navigate to where you extracted the


●荒業でタッチパッドを交換
・Touchpad TM61P-336A Synaptics TM61PUZG336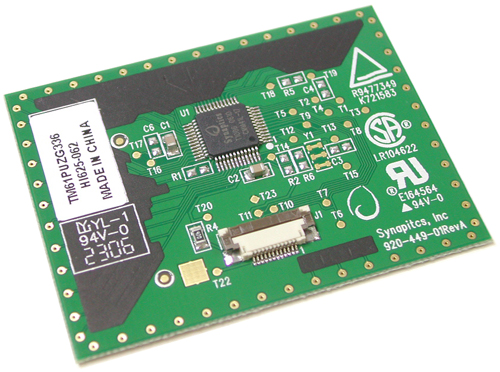 ●禁断の裏技(BIOSのロゴを変更)
How to replace Wind BIOS OEM logo: step-by-step guide

MSI Wind U90/U100/U120 BIOS logo editor


Download link:
http://rapidshare.com/files/238497753/WindLogoEditor114.zip

Requirements:
This program don't requires any third-party runtime libraries as .Net, or MS Visual C++ 2005/2008 Runtime, etc... But you surely need a computer allowing to run Windows applications to use it . Note for Linux fans: you can try to launch my program using Wine - it has not any system-dependent hacks in, so it should run smoothly under the Win32 emulator
Also, you'll need in the powerful graphics editor (not the M$ Paint! ) ready to hand to prepare your logo; if you don't have one, I suggest to use a freeware multiplatform image processing package XnView - download it here:
http://www.xnview.com/

Notes about the program usage:
1) WindLogoEditor should be useful to edit BIOS-es of all MS-N011 platform based netbooks, such as Advent 4211, Medion Akona, Roverbook Neo U100(tested! it's my netbook ), etc.
2) WindLogoEditor is NOT compatible with BIOS-es of MSI Wind U110 and clones - use MMTOOL instead!
3) To remove or replace an Intel logotype you see on the Wind boot screen - replace/remove the logotype marked as "Intel Atom" in the logotypes list; logo marked as "Intel" is completely useless.
4) You can't add really new logotypes to the MSI Wind BIOS files; using the "Add" button in program, you only can add logotypes instead of the previously removed ones.
5) Double-click on item in the logotypes list = "Save..." button
6) You can specify BIOS file to open in command line: for example, WindLogoEditor.exe C:\EN011IMS.109

Notes about the logotype images format:
To be used as an MSI Wind logotype, your image should be 1-,4- or 8-bit uncompressed (non-RLE) Windows .BMP file, or a 24-bit (Truecolor without Alpha channel) Windows .BMP file no more than 800*600 pixels. In addition, such an image should have some special features:
1) Nonstandard aspect ratio. While drawing the logo, BIOS assumes screen aspect ratio is 4:3, while the real aspect ratio is 1024:600, so any ordinal image will be looked "stretched-out" horizontally. To prevent this effect, you should preliminarily resize your image according to the such a proportion:
New_width(pixels) = Width(pixels) * 800 / 1024;
For example: if your image size is 320*240 pixels, you should resize it to 250*240 pixels (320*800/1024 = 250); after such an operation, it should be looked "squeezed" in any graphics editor - it's OK.
2) Darken colors. Due to unknown reasons, BIOS logo is drawing with a very light-colored palette, so most of standard light colors will be identical to white. To get your image lookes normally, you should adjust its saturation (approx. +36 on the 100-points scale) and lightness (approx. -10 on the 100-points scale); as a result, your image become too colorful and too dark - it's OK.
3) Good compressibility. Writing the logo to BIOS image file, WindLogoEditor compresses it - like the PkZip does. Unfortunately, there is no too much free space in the MSI Wind BIOS, so you have a chance to get the " is too large to fit into " error message. While it's not possible to predict this situation beforehand due to the stochastic nature of compression, in such a case you can:
a) Remove any unused logotypes from the ROM BIOS image - for example, Intel Pentium, Celeron and Centrino logotypes are completely useless (unless you think you can solder your Atom CPU out from the system board and replace it by the Core2 Duo CPU ).
b) Convert your image to 256-color or even to 16-color - such an images require far less space than a true-color ones, while image degradation can be insignificant in case of small pictures and proper convertor software (XnView with Floyd-Steinberg dither algorithm, for example).
c) Process your image with any sort of blur filters to remove the random noise - more "uniform" pictures usually have less compressed size (and the black square picture has the least).
d) Reduce your image size - smaller pictures are usually have smaller compresed size.
e) Select another picture

To achieve better resulting logo image quality, I suggest you to prepare it as follows:
1) Adjust image saturation and lightness
2) Resize image to the optimal size (don't forget about the aspect ratio!)
3) If necessary, convert image to 256-color or even to 16-color mode
4) Save it as an uncompressed Windows bitmap.

Here is an example of the logotype image transformation: here you can find the original apple logotype picture, and here - the processed one, ready to place into the Wind BIOS (it's exactly the same logo as in my "apple-fans special" BIOS mod).

Good luck!


---
---
Tags: [ノートパソコン], [Windows PC]

---
●関連するコンテンツ(この記事を読んだ人は、次の記事も読んでいます)





東芝 ネットブックPC NB100
Atom N270搭載、工人舎、リラックマ




Intel Atom 330搭載マザー Jetway ATOM-GM1-330 / JBC200C91-330-B
PCIe x1コネクタ削り、SPDIF出力改造、ベンチマーク




ChgDispRes ネットブック用 画面解像度変更ソフト(ダウンスケーリング機能)
1024x600の液晶画面で 1024x768を縮小表示(東芝 NB100、MSI U100、ASUS 900HA 対応)




RotateDisp 画面回転ツール、ホットキーで手軽に画面を回転
プレゼン時や電子書籍や電子コミックに便利(ポートレート表示も可能)




ImeBig V2 どで漢字 変換中の文字と変換候補一覧を大きく表示
目に優しい IME用ツール、日本語入力の文字を"どでかく"表示します(ATOK、中国語IMEにも対応)




nLite Windowsの不要なコンポーネントを削除する(Win XP SP3版)
Windows XP SP3での nLite設定例、省メモリ、省スペースに軽量化ができます




---
[HOME] | [BACK]
---
リンクフリー(連絡不要、ただしトップページ以外は Web構成の変更で移動する場合があります)
Copyright (c) 2009 FREE WING,Y.Sakamoto
Powered by 猫屋敷工房 & HTML Generator

http://www.neko.ne.jp/~freewing/hardware/msi_u100/